Achilles Tendinitis The Facts
Overview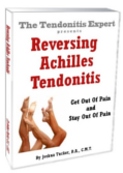 Tendinitis is the inflammation of a tendon. Tendons are thick cords of tissue that connect muscles to bone. Achilles tendinitis, or an inflammation of the Achilles tendon, is one of the most common causes of foot or ankle pain. Other types of foot/ankle tendinitis include posterior tibial tendinitis and peroneal tendinitis.
Causes
The two most common causes of Achilles tendonitis are Lack of flexibility and Overpronation. Other factors associated with Achilles tendonitis are recent changes in footwear, and changes in exercise training schedules. Often long distance runners will have symptoms of Achilles tendonitis after increasing their mileage or increasing the amount of hill training they are doing. As people age, tendons, like other tissues in the body, become less flexible, more rigid, and more susceptible to injury. Therefore, middle-age recreational athletes are most susceptible to Achilles tendonitis.
Symptoms
Achilles tendonitis typically starts off as a dull stiffness in the tendon, which gradually goes away as the area gets warmed up. It may get worse with faster running, uphill running, or when wearing spikes and other low-heeled running shoes. If you continue to train on it, the tendon will hurt more sharply and more often, eventually impeding your ability even to jog lightly. About two-thirds of Achilles tendonitis cases occur at the ?midpoint? of the tendon, a few inches above the heel. The rest are mostly cases of ?insertional? Achilles tendonitis, which occurs within an inch or so of the heelbone. Insertional Achilles tendonitis tends to be more difficult to get rid of, often because the bursa, a small fluid-filled sac right behind the tendon, can become irritated as well.
Diagnosis
There is enlargement and warmth of the tendon 1 to 4 inches above its heel insertion. Pain and sometimes a scratching feeling may be created by gently squeezing the tendon between the thumb and forefinger during ankle motion. There may be weakness in push-off strength with walking. Magnetic resonance imaging (MRI) can define the extent of degeneration, the degree to which the tendon sheath is involved and the presence of other problems in this area, but the diagnosis is mostly clinical.
Nonsurgical Treatment
Initial treatment of mild Achilles tendinitis involves rest, stretching exercises, and non-prescriptive medications to relieve pain and reduce inflammation. These medications include nonsteroidal anti-inflammatory drugs (NSAID) such as ibuprofen or naproxen. Relief of pain and swelling may be achieved with the application of ice for15 minutes at a time. Sleeping with the affected foot propped up on a pillow may also relieve swelling. Adequate time must be given to rest and recovery, meaning months or weeks, to prevent re-injury of the Achilles tendon. Most people make a full recovery and are able to return to their regular sports and exercise programs.
Surgical Treatment
Occasionally, conservative management of Achilles tendon conditions fails. This failure is more common in older male patients and those with longstanding symptoms, those who persist in full training despite symptoms or those who have uncorrected predisposing factors. In these cases, surgery may be indicated. It should be remembered, however, that the rehabilitation program, particularly for severe Achilles tendon injuries, is a slow, lengthy program. Surgery is only indicated when there is failure to progress in the rehabilitation program. Surgery should not be considered unless at least six months of appropriate conservative management has failed to lead to improvement.
Prevention
Achilles tendinitis cannot always be prevented but the following tips will help you reduce your risk. If you are new to a sport, gradually ramp up your activity level to your desired intensity and duration. If you experience pain while exercising, stop. Avoid strenuous activity that puts excessive stress on your Achilles tendon. If you have a demanding workout planned, warm up slowly and thoroughly. Always exercise in shoes that are in good condition and appropriate for your activity or sport. Be sure to stretch your calf muscles and Achilles tendon before and after working out. If you suffer from Achilles tendinitis make sure you treat it properly and promptly. If self-care techniques don?t work, don?t delay. Book a consultation with a foot care expert or you may find yourself sidelined from your favourite sports and activities.