What Brings About Plantar Fasciitis And How To Heal It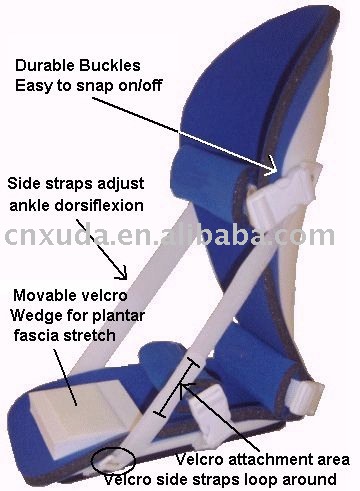 Overview
The plantar fascia (a connective tissue structure) stretches from the toes and ball of the foot, through the arch, and connects to the heel bone in three places: outside, center and inside. Normally it helps the foot spring as it rolls forward. It also provides support for the arch of the foot. The plantar fascia helps keep the foot on track, cutting down on oscillation. When the foot over-pronates (rolls to the inside) the plantar fascia tries to stabilize it and prevent excessive roll. In time, the inside and sometimes center connections are overstressed and pull away from their attachments. The first sign is usually heel pain as you rise in the morning. When you walk around, the pain may subside, only to return the next morning. Inflammation and increased soreness are the results of long-term neglect and continued abuse. A heel bone spur may develop after a long period of injury when there is no support for the heel. The plantar fascia attaches to the heel bone with small fibers. When these become irritated they become inflamed with blood containing white blood cells. Within the white blood cells are osteoblasts which calcify to form bone spurs and calcium deposits. The body is trying to reduce stress on that area by building a bone in the direction of stress. Unfortunately, these foreign substances cause pain and further irritation in the surrounding soft tissue.
Causes
Because the plantar fascia supports your foot and gets used every time you take a step, it has to absorb a large amount of stress and weight. If too much pressure is put on the plantar fascia, the fibers can become damaged or start to tear. The body responds by causing inflammation in the affected area. This is what causes the pain and stiffness of plantar fasciitis. Things that can increase the risk of plantar fasciitis include tight calf muscles. Tight calves make it harder to flex your foot, and this puts more stress on the plantar fascia. Weight. Carrying a few extra pounds puts added pressure on your feet every time you take a step. Activities that put a lot of stress on the feet. This includes things like running, hiking, dancing, and aerobics. Bad shoes. Footwear that doesn't give your foot the support it needs increases your risk of plantar fasciitis. You'll want to ditch any shoes that have thin soles or inadequate arch support, or ones that don't fit your feet properly. Routinely wearing high heels can also cause your Achilles tendon to contract over time, making it harder to flex your foot. Jobs that involve a lot of standing or walking on hard surfaces. Jobs that keep you on your feet all day, like waiting tables or working in a store, can cause damage to your plantar fascia. High arches, flat feet, or other foot problems. The shape of your foot can affect the way your weight is distributed on your feet when you stand. If weight distribution is a bit off, it can add to a person's risk of plantar fasciitis. How someone walks can increase the stress on certain parts of the foot too.
Symptoms
Pain is the main symptom. This can be anywhere on the underside of your heel. However, commonly, one spot is found as the main source of pain. This is often about 4 cm forward from your heel, and may be tender to touch. The pain is often worst when you take your first steps on getting up in the morning, or after long periods of rest where no weight is placed on your foot. Gentle exercise may ease things a little as the day goes by, but a long walk or being on your feet for a long time often makes the pain worse. Resting your foot usually eases the pain. Sudden stretching of the sole of your foot may make the pain worse, for example, walking up stairs or on tiptoes. You may limp because of pain. Some people have plantar fasciitis in both feet at the same time.
Diagnosis
Physical examination is the best way to determine if you have plantar fasciitis. Your doctor examines the affected area to determine if plantar fasciitis is the cause of your pain. The doctor may also examine you while you are sitting, standing, and walking. It is important to discuss your daily routine with your doctor. An occupation in which you stand for long periods of time may cause plantar fasciitis. An X-ray may reveal a heel spur. The actual heel spur is not painful. The presence of a heel spur suggests that the plantar fascia has been pulled and stretched excessively for a long period of time, sometimes months or years. If you have plantar fasciitis, you may or may not have a heel spur. Even if your plantar fasciitis becomes less bothersome, the heel spur will remain.
Non Surgical Treatment
A doctor may prescribe anti-inflammatory medication such as ibuprofen to help reduce pain and inflammation. Electrotherapy such as ultrasound or laser may also help with symptoms. An X-ray may be taken to see if there is any bone growth or calcification, known as a heel spur but this is not necessarily a cause of pain. Deep tissue sports massage techniques can reduce the tension in and stretch the plantar fascia and the calf muscles. Extracorporeal shock wave therapy has been known to be successful and a corticosteroid injection is also an option.
Surgical Treatment
More invasive procedures to treat plantar fasciitis are usually sought only after other treatment has failed to produce favorable results. Corticosteroid injections deliver medicine into the injured fascia to reduce pain. However, this treatment may weaken the plantar fascia and result in further damage. In addition, extracorporeal shock wave therapy (ESWT) is a treatment where sound waves are sent through the damaged tissue in order to stimulate the damaged tissue and encourage healing. This method is relatively new in treating plantar fasciitis and your doctor will be able to tell you if it is the right method for you. Lastly, surgery is the last option for those suffering from chronic or severe plantar fasciitis.
Stretching Exercises
Exercises designed to stretch both your calf muscles and your plantar fascia (the band of tissue that runs under the sole of your foot) should help relieve pain and improve flexibility in the affected foot. A number of stretching exercises are described below. It's usually recommended that you do the exercises on both legs, even if only one of your heels is affected by pain. This will improve your balance and stability, and help relieve heel pain. Towel stretches. Keep a long towel beside your bed. Before you get out of bed in the morning, loop the towel around your foot and use it to pull your toes towards your body, while keeping your knee straight. Repeat three times on each foot. Wall stretches. Place both hands on a wall at shoulder height, with one of your feet in front of the other. The front foot should be about 30cm (12 inches) away from the wall. With your front knee bent and your back leg straight, lean towards the wall until you feel a tightening in the calf muscles of your back leg. Then relax. Repeat this exercise 10 times before switching legs and repeating the cycle. You should practise wall stretches twice a day. Stair stretches. Stand on a step of your stairs facing upstairs, using your banister for support. Your feet should be slightly apart, with your heels hanging off the back of the step. Lower your heels until you feel a tightening in your calves. Hold this position for about 40 seconds, before raising your heels back to the starting position. Repeat this procedure six times, at least twice a day. Chair stretches. Sit on a chair, with your knees bent at right angles. Turn your feet sideways so your heels are touching and your toes are pointing in opposite directions. Lift the toes of the affected foot upwards, while keeping the heel firmly on the floor. You should feel your calf muscles and Achilles tendon (the band of tissue that connects your heel bone to your calf muscle) tighten. Hold this position for several seconds and then relax. Repeat this procedure 10 times, five to six times a day. Dynamic stretches. While seated, roll the arch of your foot (the curved bottom part of the foot between your toes and heel) over a round object, such as a rolling pin, tennis ball or drinks can. Some people find that using a chilled can from their fridge has the added benefit of helping to relieve pain. Move your foot and ankle in all directions over the object for several minutes. Repeat the exercise twice a day.